San Fernando Campus


HISTORY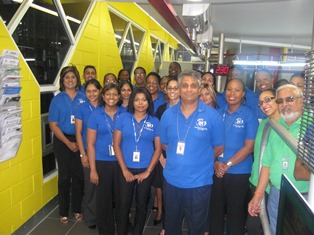 Three years after SBCS opened its Port of Spain Campus, San Fernando was opened. On 20th February 2006 SBCS opened starting our life here in San Fernando with a Short Course in OSHA Construction Industrial Training and Project Management for Business Professionals - the both courses were oversubscribed! This was certainly a good start and a good sign for us since it certainly set the pace for all our programmes.
In September of that year we were determined to start other programmes. With five months in hand, contractors worked tirelessly, staff walked through mud and we were able to construct another building housing classrooms that can accommodate from 35-100 students, library, study room and cafeteria. We were able to expand our offerings to the BSc from the University of London, FIA and ACCA, ABE - Diploma and Graduate Diploma.
SBCS San Fernando continues to add to the programme offerings ensuring diversity and relevance and never compromising on the promise to deliver an excellent service.


FACILITIES
The facility boasts of fully equipped classrooms and Labs. Our classrooms are outfitted with modern multimedia equipment. In addition we have library facilities and Study Rooms all very conducive for individual studies. These Study Rooms are accessible 24/7 and for students' safety there is security round the clock. The Campus also carries a large and comfortable cafeteria where students can sit and relax. In addition to the Parking at the Building there are two other secure parking facilities on Fran Street adjacent to the campus.