Trincity Campus
HISTORY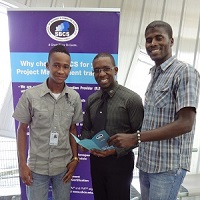 Janury 10, 2009 has been etched in the history of the School of Business and Computer Science, Trincity Campus. This marked the first day of official classes at this modern, state of the art, facility. The first two groups of students to be accommodated were the MBA Edinburgh Business School and BSc. Business Administration (Royal Holloway) students. All classes were conducted without any setbacks, with favourable reviews received from both lecturers and students. To mark this memorable day, the principal of the Dinsley Government Primary School (Mrs Marian Browne) and a representative from her team were on hand to formally welcome Dr Robin Maraj/SBCS to the Trincity community.
Today, the campus, established in September 2008, is now dubbed the Centre for Graphic Communication. It specialises in Graphic Design courses, most notably the Edexcel BTEC Higher National Diploma in Graphic Design, the University of Sunderland Bachelor of Arts in Graphic Design. These two programmes are held exclusively at the Trincity campus. Our full portfolio includes other programmes as Bachelor of Arts in Business Management (University of Sunderland), Heriot-Watt University's Masters of Business Administration, the Association of Business Executives (ABE) programme (Levels 4 and 5) and short Business and IT Professional courses. In addition, classes are now offered across all modes – fulltime, part-time, Saturdays and Sundays.
Here at the Trincity Campus we are focused on providing quality service to our existing customers and the general public as well. Not only that, we are proud of the students that we are privileged to serve and through various avenues, attempt to support and promote the fine work produced here at the Centre for Graphic Communication. One such avenue is the Graphic Design Exhibition: "Think! The Process of Design". At the Exhibition, projects are showcased by learners of the BTEC Higher National Diploma in Graphic Design. Works of art in a variety of media will be on display; websites, paintings, illustrations, books, video and other works by talented students who have pursued the programme.
FACILITIES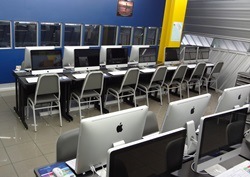 As SBCS' Graphic Design Centre, the campus sports unique facilities that include a Mac Lab as well as an Art Design Studio. The campus, which is deceptively a four-story building, is located on the corner of Beaulieu Avenue and Trincity Boulevard, Trincity. Its fifteen (15) classrooms are situated on the basement level (underground), while the main entrance and General Administration are located on the first floor. The second floor comprises of the Mac and PC Labs, Library and Corporate Training administration, while the third floor houses the rooftop café, dedicated study rooms and Art Design Studio.



CAMPUS SPECIFIC INFORMATION
Study Facilities
At the moment, the Trincity campus only offers 24-hour study facilities during the following periods:
April - June
October - December
Shuttle Service
A shuttle service is in effect Monday - Saturday to transport students from the campus to the following destinations:
Dinsley Junction (public transportation)
Dinsley Government Primary School - car park (private transportation)
Academic Centres