Programme Brief
This Certificate in Basic Corrosion - Understanding, Protecting, Identifying and Repairing (Steel and Concrete structures) teaches persons how to recognize corrosion within their area of responsibility and operations, and to understand its devastating potential. Learn the causes and types of corrosion, as well as how it can be identified, monitored, and controlled in different environments.
This course is suited to facilities and maintenance staff.
Learning outcomes
On completion of this course, learners will be able to:
Define corrosion and recognize its economic, environmental and safety impact
Recognize terms and definitions of basic electrochemistry, as well as define the processes and concepts of electrochemistry, oxidation and reduction reactions, thermodynamics, kinetics, and passivity
Identify the characteristics of commonly-encountered corrosive environments such as atmospheric, water and other electrolytes, soil and high temperature environments
Distinguish between engineering materials such as metals, non-metals, composites, concrete and ceramics and their relationship to corrosion control
Discuss the various forms of corrosion, how to recognize each form, materials subject to each form, environments that promote each form and how to control each form
Explain how corrosion can be controlled during the design process through construction, as well as process parameters, drainage, dissimilar metals, crevices, and corrosion allowance
Give examples as to how to control corrosion through design, material selection, modification of environment, protective coatings, and cathodic and anodic protection
Differentiate between inspection and monitoring and identify the common testing techniques for each
The duration of this course is 24 contact hours.
---
Why study Corrosion at SBCS?
Instructors are certified, highly skilled and experienced practitioners who bring their knowledge and work experience to the classroom
Course is career oriented. The curriculum was developed to meet the needs of the current marketplace
Course includes some practical, hands-on demonstrations. Some emphasis is placed on the application of the knowledge taught
Fully equipped labs. Available for use in practical sessions where applicable
Convenient class schedules. Classes are offered part time, which allows working individuals to balance their work and educational needs
---
Our Campus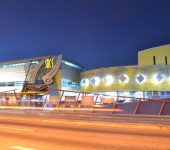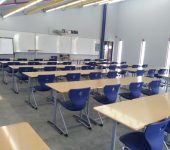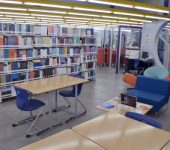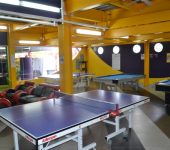 ---
Schedule & Fees
Online
| | | | | |
| --- | --- | --- | --- | --- |
| Start Date | End Date | Days | Time | Cash Price |
| 9-Nov-20 | 21-Dec-20 | Mon | 5:30pm - 8:30pm | US$345 / TT$2250 |
An e-certificate will be issued at the end.
Requirements for Online Course
Windows OS: Windows 10 Professional (Windows 10 Home is also acceptable)
Microsoft Office 2019
Adobe Acrobat Reader
Please note: All information provided is subject to change without prior notice.
Please click Registration Information for more details.
---
What's Next?
Check out our 2020 Short Course Schedule.
---
Administration fee: $150 to be paid on registration.
Registration deadline: One week before the scheduled start date of the class.

Late Administration fee

: $175 will be charged if registration is within one week of the scheduled start date of the course.
Payment Plan: A credit price, usually 10% more than the cash price, is available if necessary.  The down payment is 60% of the credit price plus the administration fee. The remainder is paid in installments before the end of the course.
Online Registration
To register for the online course, please follow the instructions below:
Please complete the Online Programme Registration Form, and click submit.
Once the form has been completed, please proceed to make your payment via the following options below:
  2. PayPal – Please click the " Add to Cart" button below:
All relevant information about accessing online sessions will be sent via email within 3-5 working days.
*If you do not have a PayPal account, or a credit card, you can utilize any of the following payment options:
  3. Payment of TT$2,250.00 can be made via direct deposit to the following SBCS Republic Bank Account (3501 3848 7501).
Once you have deposited the required payment, please email and attach a copy of the stamped deposit slip to Centre for Information Technology and Engineering (CITE) cite-it@sbcs.edu.tt informing of such.
Once CITE verifies the deposit, final registration details will be forwarded to the student.
For further information, please send an email to entre for Information Technology and Engineering (CITE) cite-it@sbcs.edu.tt  or call 663-7227 extensions 1092/3/9.
Technical Requirements?
Please check that your laptop / tablet meets the minimum requirements for Adobe Connect web conferencing online platform services before registering by clicking here.  
For further details please email cite-it@sbcs.edu.tt or call the numbers below:
Champs Fleurs – (868) 663-7227 extensions 1092/3/9
Trincity – (868) 640-7090 / (868) 640-7490 extensions 1511/51