Programme Brief
The Certificate in Basic Installation (Residential) course is ideally suited for anyone who wants to learn the basics of electrical installation and to develop the technical skills required to undertake basic electrical maintenance in their homes.
Learning outcomes include:
Differentiating between the various types and sizes of cables used in residential electrical installations and being able to select the appropriate cable for a particular application.
Performing basic practical competencies in electrical installation including stripping of conductors, bending of conduits, installation of trunking, wiring of plugs and outlets.
Interpreting various wiring schematic diagrams and connect simple lighting and power circuits such as one-way, two –way and intermediate switching circuits, distribution panel with receptacle outlets, photocell controlled lighting circuit.
Identifying and applying various regulations as it applies to electrical installation and using the multi-meter tester to perform various circuit tests (polarity, continuity, voltage).
The duration of this course is 24 contact hours.
---
Why study Electrical Installation at SBCS?
Instructors are certified, highly skilled and experienced practitioners who bring their knowledge and work experience to the classroom
Course is career oriented. The curriculum was developed to meet the needs of the current marketplace
Course is over 80% practical, hands-on training. Emphasis is placed on practical training and the application of the knowledge taught
Modern, fully equipped labs. You learn using the same equipment you will encounter in the field
Convenient class schedules. Classes are offered on a part-time basis, which allows working individuals to balance their work and educational needs 
---
Our Labs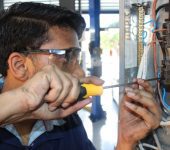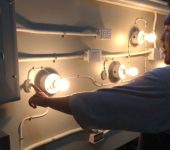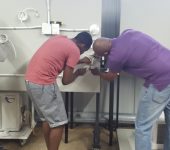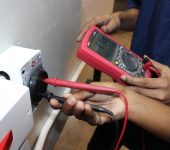 ---
Our Campus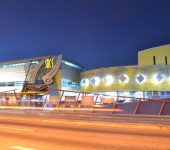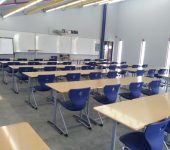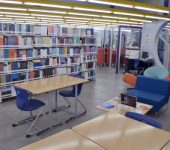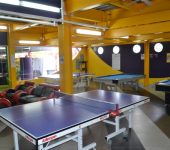 ---
Schedule & Fees
Champs Fleurs

| | | | | |
| --- | --- | --- | --- | --- |
| Start Date | End Date | Days | Time | Cost |
| 21-Jan-20 | 17-Mar-20 | Tue | 5:30pm-8:30pm | $2,450 |
| 16-Apr-20 | 4-Jun-20 | Thur | 5:30pm-8:30pm | $2,450 |
| 9-Jul-20 | 27-Aug-20 | Thur | 5:30pm-8:30pm | $2,450 |
| 6-Oct-20 | 24-Nov-20 | Tue | 5:30pm-8:30pm | $2,450 |
Please note: All information provided is subject to change without prior notice
---
What's Next?
You may also be interested in:
---
Entry Requirement: Basic Mathematics and Science.
Administration fee: $150 to be paid on registration.
Registration deadline: One week before the scheduled start date of the class.

Late Administration fee

: $175 will be charged if registration is within one week of the scheduled start date of the course.
Payment Plan: A credit price, usually 10% more than the cash price, is available if necessary.  The down payment is 60% of the credit price plus the administration fee. The remainder is paid in installments before the end of the course.
For further details please email cite-eng@sbcs.edu.tt or call the numbers below:
Champs Fleurs

– (868) 663-7227 extensions 1094/5/8

San Fernando

– (868) 652-2388 / (868) 653-6331 / (868) 657-2681 extensions 1430/1/2