Programme Brief
The Certificate in Electrical Installation (Wireman's Licence Exam Prep) provides individuals with the technical and practical knowledge required to sit the wireman's exam from the Electrical Inspectorate Division. 
Anyone with an electrical background can pursue this course however, in order to qualify to register for the exam, students enrolling must be either pursuing or have completed one of the following programmes:
Diploma in Electrical Installation from City and Guilds
Diploma in Electrical Installation from National Examination Council (NEC)
Degree in Electrical and Electronics.
This course only provides the technical and practical competence required. 
Applications for the exam must be made directly to the head office of the Electrical Inspectorate.Further information on applying for the licence can be obtained from ttconnect or the Ministry of Public Utilities.
---
Learning outcomes include:
Perform practical competencies in electrical installation including stripping of conductors, bending of conduits, installation of trunking, wiring of plugs and outlets.
Interpret various wiring schematic diagrams and connect simple lighting and power circuits such as one-way, two-way and intermediate switching circuits, distribution panel with receptacle outlets, photocell controlled lighting circuit.
Identify and apply various regulations as it applies to electrical installation and use the multi-tester to perform tests on circuits (polarity, continuity,voltage).
The duration of this course is 24 contact hours.
---
Why Study Electrical Installation st SBCS?
Prepare for the Wireman's exam in 8 weeks with the appropriate pre-requisite qualifications.
Instructors are certified, highly skilled and experienced practitioners who bring their knowledge and work experience to the classroom.
Course is career oriented. The curriculum was developed to meet the needs of the current marketplace.
Course is over 80% practical, hands-on training. Emphasis is placed on practical training and the application of the knowledge taught.
All course material is included in the price.
Modern, fully equipped labs. Learn using the same equipment you will encounter in the field.
Convenient class schedules. Classes are offered on a part time basis, which allows working individuals to balance their work and educational needs.
---
Our Labs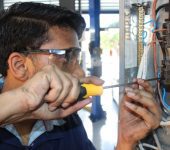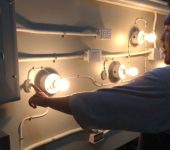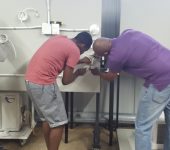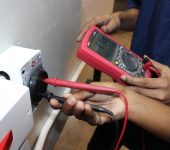 To view our photo gallery please click here.
---
Schedule & Fees
Champs Fleurs

| | | | | |
| --- | --- | --- | --- | --- |
| Start Date | End Date | Days | Time | Cost |
| 15 - Oct-18 | 3-Dec-18 | Mon | 5:30pm - 8:30pm | $3,500 |
Please note: All information provided is subject to change without prior notice.
---
What's Next?
You might also be interested in:
---
In order to register for this course an electrical background is required.
In order to register for the wireman's exam, you must have at least one of the qualifications listed below:
Diploma in Electrical Installation from City and Guilds
Diploma in Electrical Installation from National Examination Council (NEC)
Degree in Electrical and Electronics.
PLUS
meet the minimum age requirement of 23 years
3 years experience as an electrician
Further information can be found on ttconnect.
Administration fee: $150 to be paid on registration.

Registration deadlin

e: One week before the scheduled start date of the class.

Late Administration fee

: $175 will be charged if registration is within one week of the scheduled start date of the course.
Payment Plan: A credit price, usually 10% more than the cash price, is available if necessary.  The down payment is 60% of the credit price plus the administration fee. The remainder is paid in installments before the end of the course.
For further details please email cite-eng@sbcs.edu.tt or call the numbers below:
Champs Fleurs

– (868) 663-7227 extensions 1094/5/8