Champs Fleurs Campus began operations in 1990 replacing the previous campus at #3 Santa Cruz Old Road, San Juan, Trinidad, therefore making it our oldest operational campus.  The move from San Juan to Champs Fleurs was necessary to meet our rapidly growing enrolment numbers.  Initially, Champs Fleurs Campus began as a small house which accommodated both living quarters and classrooms. Again the need for expansion became evident. Thereafter, the school underwent several modifications to become the multi-level structure as it stands today.
Another major event embedded in the history of SBCS, is the negotiation and development of strong and long standing affiliations with several world renowned universities and recognised professional associations.  This accomplishment ensured that the portfolio of the school's offering widened so that there was a place and a programme for all who sought to improve their current educational standing.
ARCHITECTURE
One of the most frequently asked questions is why do SBCS buildings look the way they do.  Our buildings sport unique architectural design that defines who we are as an educational institution.
Our inimitable architecture is a tangible reflection of our vision – to create a unique learning environment.  Our buildings convey to our students that they are entering a place where any and everything is possible, where change is not just a word but is, in fact, our modus operandi.  Not many educational institutions are brave enough to construct the type of buildings that we have constructed, and this demonstrates the essence of leadership.  We are not afraid to push the envelope, even at the risk of being criticized.  Education is about change and our buildings show in a most palpable manner that we, as educators, are capable of 'both talking the talk and walking the walk'.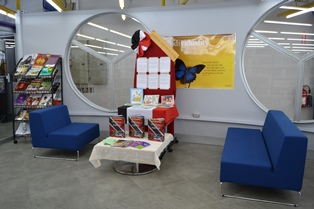 Leadership is about creating a path, where none previously existed.  The very fact that we are not afraid to be different conveys that SBCS is truly a different place to learn.  We are a private entrepreneurial academic institution with multiple campuses offering to the people of the region unparalleled access to industry-relevant, tertiary education and training in facilities that are unique in every way.  What sets us apart, however, is that our distinctive facilities are staffed by hundreds of unique individuals whose primary objective is to deliver an excellent service to our students.